Blanche Moila is to road running what Penny Heyns is to swimming – a sporting icon with a heart of gold and a desire to reach out to young girls who have the potential to be great athletes. Blanche made South African sporting history in 1984 when she became the first black female athlete to win Springbok colours.
These days, Blanche, who is Chief Professional Nurse in the Psychiatric Unit at King George Hospital, still finds time to run, while devoting time to train young female athletes, and spreading the message to poor communities that is it important to run. Still, she admits there are many myths surrounding sportswomen in black communities.
Blanche's successes came during a competitive era in road running in South Africa with the likes of Sonja Laxton, Zola Budd, Colleen de Reuck, and Grace de Oliveira, dominating the running scene. Over they years, she has won countless road running, cross country, and track titles, both provincially and nationally.
Blanche has been rewarded many times for her achievements as an athlete. In 2001, she received the State President's Award for lifetime achievements, won the Shoprite Checkers Woman of the Year Award for Sport in 2002, being the Face of Comrades 2004, and she won a silver medal at the 2005 Comrades Marathon.
Back in 2004 when Blanche's profile was used to market the Comrades Marathon, chairperson of the Comrades Marathon Association, Dave Dizon said Blanche was the perfect role model to portray the spirit of the Ultimate Human Race.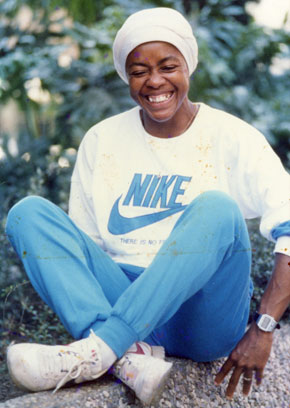 Dizon said: "She is a woman of great character and courage, with a competitive spirit and a love of humanity. She has served as an inspiration to thousands and in a 20-year running career has gained the admiration and respect of her peers. We had already decided upon a dominant female element to acknowledge the significant contribution of women to the race and the 35-person increase in the number of female competitors last year. Blanche fit the bill."
If all goes well, Blanche plans to run her eighth Comrades Marathon this year. Once again, she will be running on behalf of the Star Fish Foundation, which looks after children who have been orphaned or made vulnerable by AIDS.
Blanche's favourite discipline is cross-country, but on the road the 10km and the 42km are her favourites, depending on my level of fitness. To relax, she enjoys theatre, reading, and jogging alongside the ocean.
Blanche's greatest ambition is to motivate for a sports academy for women, especially for the young girls from rural areas. She believes there is a need to develop programmes and avail resources that will assist these young women, bearing in mind their customs.
Introducing gsport's April 2008 Woman, legendary road running star and role model, Blanche Moila!
Blanche, tell us about your passion for running…
I enjoy challenges and running has an infinite number of challenges at hand all the times – challenges in terms of speed, and in terms of distance. The greatest benefits I derived from running are the good feelings about myself. I am more relaxed, confident and have a healthy concept of who I am and what I can achieve. I also enjoy the authentic camaraderie amongst runners.
When did you first realise you have a future in competitive road running?
My competitive running came about per chance. It all started when a friend (Dr. Shorty Moolla) who was a Registrar at a Psych Hospital, invited me to join him on his training runs while he was preparing for Comrades. He actually saw me run socially at a Hospital Sports Day, and realised I had an economical running style.
After a few months of running with him, he persuaded me to enter the ladies 10km race in Durban. I finished 3rd in 39min. Surprised myself and, needless to say, a lot of people in the running fraternity.
But more impressive was the ladies 10km in Cape Town where once again I was 3rd in a better time of 35min, and ahead of my very good friend and provincial mate Colleen de Reuck (who was one of the top female athletes). Zola Budd and Dianne Massyn were 1st and 2nd respectively. That's when I realised I could have a future in athletics, the media took note, and I suddenly acquired a huge fan club.
It's nearly 25 years since you became the first black female athlete to be awarded original Springbok colours. What did that achievement mean for you?
Achieving Springbok colours was very special and very satisfying. I knew I had broken a barrier and accepted the colours with great responsibility. Image of Black women succeeding against all odds, in a field dominated by melanin-deficient athletes, could only motivate others to strive towards attaining the ultimate goal. Colours, and to represent our country South Africa, an extremely conservative and traditional Society! We are a nation obsessed with sport, yet there seem to be so little glory in it for women. I hoped that achieving the Springbok colours would open doors for others to follow.
How did people respond then to your success as a black woman?
I have been fortunate in that I have always enjoyed tremendous support from folk in my community and the greater sporting fraternity with a lot of positive feedback. I can only remember one negative incident during an inter-provincial cross-country race, I heard one spectator shout at me to give way for "missus-madam", referring to a melanin-deficient athlete behind me.
I just put my head down and responded by running even quicker, and of course what a satisfying feeling it was to triumph in Pretoria.
However I have enjoyed great friendships with amazing athletes such as Sonja Laxton, Zola Budd, Viv Swanepoel, Colleen de Reuck, Tanya Peckam, Grace de Oliveira and Helen Lucre to name a few.
It was also very humbling and heart-warming to hear ministers such as Jeff Radebe say, while they were in Robben Island, they watched me on TV and were always aware of the impact my successful running had on other people from all walks of life.
Tell us about your role in promoting road running among young people?
For years SA had produced outstanding male athletes, but neglected to support their female counterparts. Black female athletes pre 1994 were virtually ignored. The mines to a large extent helped develop Black male athletes, but ignored the female athlete.
While the powers that be, at that time seemed to be au-fait with the cultural differences and the manner in which these manifest themselves in the sporting world, no-one seemed to address the problems effectively, to enhance the development of the female athlete. That's one of the reasons I have been working with schools, motivating the youth to choose sport and try to exorcise the myths that plague some communities.
The emancipation of black women in athletics still has a long way to go. Granted there has been a steady loosening of social norms that inhibited most women, but they still face a lot of challenge. Some traditions, customs and outright ignorance retard the progress of most black female athletes.
These are some of the myths:
The female athlete will become muscle bound;
Will be unable to conceive and have children;
The uterus will be displaced;
Makes women less feminine;
Retards the development of female reproductive organs; and
Ligaments in the breast will snap and cause it to droop.
I have a few girls under my wing and what a mission I have to try and motivate them and allay their fears about these myths. I provide mentorship and try and create an environment where their performances would be enhanced. My vision is to ensure active participation of more black female athletes from foundation to excellence, and to ensure they enjoy an enriched life through sport.
Remove social handicaps such as inferiority complex, shyness, lack of sound nutritional knowledge and teach them basic life skills, and assist financially when the need arises. My general optimism towards life and others has been enriched through sport, and I want the same for the young girls under my wings. I have a dream South African females athletes will outrun the Kenyans and the Ethiopians and Zimbabweans.
It is almost inconceivable that communities that have produced such grate athletes as Hendrik Ramaala, Shadrack Hoff, Mbulaeni Mulaudzi, Leroy Newton, Willie Mtolo, Siyabonga Nkonde and Gert Thys have not produced female superstars.
How many races have you won to date?
To date I have won 50+ KZN road running, cross-country and track titles overall, i.e.: over 10km, 15km, 21km, 42km, 1500m, 3000m, and 5000m. I've also won national titles at 10km, 16km and 21km distances, and was consistent top-3 finisher over 15km and 42km nationally till the mid '90's. I've held records over 16km and 21km at some stage in the 80's, obviously these records have been broken over the years.
What have been some of your highlights?
I have several- every national title I have won was a significant moment. Some that come to mind are:
Awarded Springbok Colours;
Being presented with the Sonja Laxton Sportsmanship Award;
Voted the Sportman Women of the year in 1985 ahead of Zola Budd;
Representing South Africa at the World Marathon Champs in Spain '93;
Representing South Africa at International Women's road relays in South Korea and Japan;
Receiving the State President's Award for lifetime achievements in 2001;
Being the face of Comrades 2004 – My profile was used in marketing the Comrades Marathon in that year; and
Silver medal at Comrades Marathon 2005.
How did you feel when you won the Shoprite Checkers Woman of the Year Award back in 2002?
The Shoprite Checkers Women of the Year Award was certainly a "Red Letter Day" for me. Just being nominated was an honour. The award was a surprise and very humbling. This is an accolade that acknowledges the altruistic efforts of women in South Africa.
Please tell us what your current role is in nursing at the King George Hospital, and how you maintain balance in your life, and still find time for running?
I am a Chief Professional Nurse in the Psychiatric Unit currently. I am a unit manager and the Night staff supervisor. It is all about time management; balance in life is essential, it teaches us how to give and how to receive, it teaches us how to listen and how to speak, and to work on all aspect of the being, i.e.: emotional, physical and intellectual. This will ensure an enriched life.
You need time to play, time to work and time to rest also. Too many people are driven to produce, always running out of time. And yet if they did set aside time for leisure or relaxation, they would have a healthier lifestyles with minimum stress.
How often do you train these days, and how many races do you still compete in?
I still enjoy training daily. But the pressure to excel is less. I'm just enjoying the sport and still run okay times to represent my province- obviously competing in the veteran category. I run about two National road races per year, and the cross-country champs.
You have started seven Comrades Marathons so far, do you plan to run this year?
If all goes well I will run my 8th Comrades this year. My preparation has not been very sound; my motivation right now is the Star Fish Foundation charity, which I have been supporting for a past few years. The Star Fish Foundation looks after children who have been orphaned or made vulnerable by AIDS.
In Comrades world there is a hype about completing ten Comrades, so perhaps that would be my goal eventually, and with 2010 Soccer World Cup what a celebration it will be to complete my 10th then.
The Comrades Marathon is an institution in South Africa, and especially important in the KwaZulu-Natal region. The lure of the world's greatest ultra-marathon is seductive. The huge spectator support and atmosphere shared effort inspires thousands of runners to persist through all sort of discomfort, to cross that finish line before the final gun is fired.
Just to witness all those runners displaying remarkable courage, determination and camaraderie is special. Running Comrades is an unforgettable experience – its fundraising drive is also very appealing. Several charities benefits economically.
Cross-country racing is still my first choice, but on the road the 10km and the 42km are my favourites depending on my level of fitness.
What is your advice to women who plan to run their first Comrades Marathon this ear?
The Comrades Marathon is a great challenge and the distance needs to be respected, but it is very do-able. Splitting the run into smaller chunks of 6 -10 km is an efficient way to cover the 89km. This year is the up-run – the first 35km are uphill with Fields Hill and Botha's Hill the two major features after Cowies Hill. But the remainder is gradual uphill with some down and flats that offer respite.
So the message is simply take this easy, run conservatively first half, don't tax yourself. Worry more about how you feel, your effort, your heart rate, then your time. On steep hills, just visualize yourself constantly climbing stairs with short regular steps, each one taking you closer to the top.
From Botha's Hill you have the easiest part of the up-run through to Drummond. Since most of the 1st half is uphill, you should arrive at halfway slower than your halfway target time. Pace yourself wisely. If you do the 1st half too fast, it is almost guaranteed that you will run a slower second half, and with much more discomfort.
Enjoy the spectators, it's a powerful organ, stay positive and you will achieve you goal. I endorse the notion that every South African should do the Comrades at least once in their lifetime – it is liberating.
Contrary to commonly health views running, Comrades is fun. The large number of runners who are not highly competitive support this view. It is a relief from everyday cares, our worries and responsibility seem less pressing when we run.
We have come a long way since our current government has been in power, and women have an equal opportunity to progress in the corporate world, yet socially our society is not women-friendly. We live in a society that is still very hostile towards women and children, and this does impact negatively on sports women
We need to nurture our young in a manner that will prevent them developing gender prejudices and myths about sports women. We need to avail more resources. Establish sport academy for women. When talent is identified, the provincial body should see to it that the athletes receive the necessary support and create an environment whereby the performance will be enhanced.
Regular training camps, not just before Olympics or World Champs, but throughout the year. Use the media effectively; give factual information to replace myths that retard participation. Images of women being successful in sport are important for motivating young sport women to continue striving to reach their true potential.
Appeal to enlightened black male athletes to help educate traditionally conservative communities regarding the emancipation of black female athlete. Sporadic intervention is not satisfactory; we need continual training over a sustained period of time. This is the pre-condition for ultimate success. Only a handful of female athletes have specialized coaches.
What are your favourite spectator sports?
Athletics, rugby, tennis, cricket and surfing.
And who are your favourite sports stars?
Tegla Loroupe – Kenya 3 times world half marathon champion, former world marathon record holder and does a lot of Anti- drugs in sport campaigning.
Colleen de Reuck- Currently based in the USA, has represented South Africa and the USA at the Olympics (her blood is still green). She is proudly South African.
Joan Benoit Samuelson- She won the first women Olympics marathon in 1984. Prior to '84 women were not allowed to run the marathon in the Olympics.
Thabitha Tsatsa- Currently the fastest female marathoner in the Southern Region has a sub 2:30min best time.
On the South African scene, current exciting athletes are, Rene' Kalmer (track 1500m, 5000m and 10km), the Palula twins Lebo and Lebogang 800m specialist, Tebogo Masetla (steeplechase), Charne Bosson, Tanith Maxwell, Poppy Mlambo, and Riana van Niekerk in a marathon. Mellissa Corfe (swimming) and Heather Clarke (surfing), Nomvula Dlamini, Zinhle Mtshali, Hlengiwe Buthelezi and Nandipha (cross-country).
How do you relax?
I enjoy theatre, reading and jogging along the ocean side. I find water helps de-stress.
gsport strives to celebrate femininity. What role does femininity play in your life?
Celebrating our femininity is imperative. Women can take part in all types of sports even those previously seen a male domain and still exude femininity. I believe in embracing my femininity through my general demeanour, speech and dress.
Nature inspires me, and being surrounded by positive people and my family.
Things happen for a reason, I learn something from every encounter. I know there are things that I may not be able to change but will not shy away from trying to change things for the better. I do thrive on challenges.
Who are your role models?
My mother, for the sound moral value system and positive self image she bestowed on my siblings and I from our youth and her altruistic nature- always helping those less fortunate then us in various ways – UBUNTU.
What makes your proud to be South African?
I've travelled a bit and I would not exchange the SA lifestyle for any other. The inherent hospitality friendliness and warmth is second to none and of course sunny skies, majestic mountains and the beautiful oceans. The crime rate is a concern though.
What is your greatest ambition?
To motivate effectively for a sports academy for women, especially for the young girls from rural areas – the majority of the marginalized black female athletes who live in the rural areas. There is a need to develop programmes and avail resources that will assist them bearing in mind their customs.
There is a tenacity of spirit that lives within all women with the proper support structure every girl child will be able to realise their true potential. Encourage mentorship programmes through schools. Remove social handicaps.