South Africa's Vicky van der Merwe has claimed the Elite women's title to lead an outstanding podium sweep at the African Triathlon Championship at Hurghada in Egypt, from 13-15 October 2023.
Shanae Williams was first out of the water followed closely by Amber Schlebusch and Vicky van der Merwe, and the three of them quickly regrouped on the bike to ride together for most of the 40 km bike course.
With all to be decided on the run, it was Van der Merwe who was fastest on the day, crossing the finish line in the first place to claim her first-ever African championship title, finishing two and a half minutes ahead of Schlebusch, and followed home by the third South African woman to cross the line for South Africa's podium sweep.
Schlebusch – who won the 2018 Youth Games in Buenos Aires, was the winner of the U23 category, with another South African, Bridget Theunissen, in second place ahead of May Sami (Egypt) in third.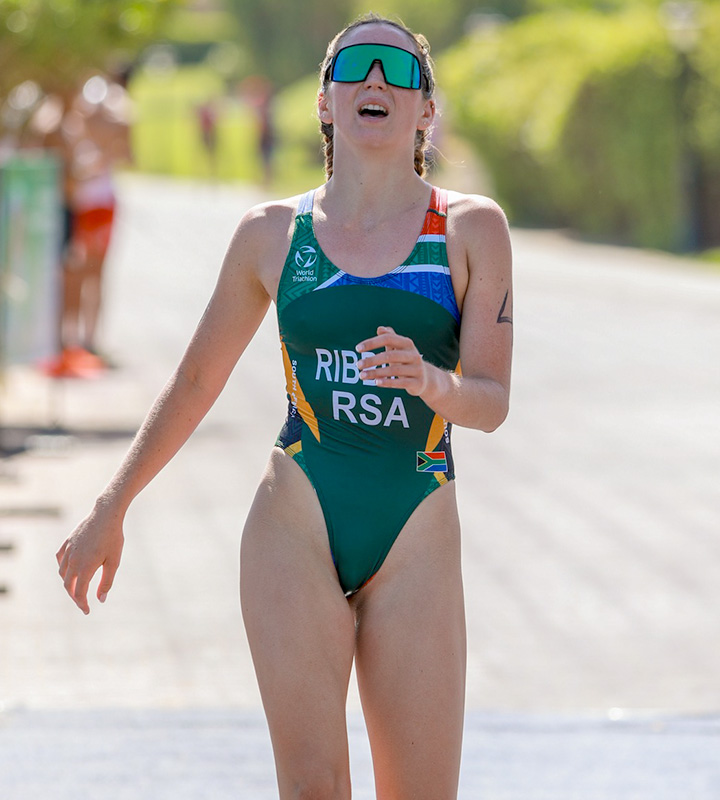 Namibia's Maja Jeanne Brinkmann was the winner in the Junior race, her ticket on the rise after recently winning the bronze medal at the Commonwealth Youth Games. South Africa's Kadence Ribbink finished in second place, ahead of Morocco's Nora Nouri claiming bronze.
South Africa also won the Mixed Relay African Championships with Schlebusch alongside men's elite champ Jamie Riddle, after Dylan Norge and Van der Merwe delivering a solid race and leading from the beginning til the end. Team Morocco finished in second place, and Team Algeria took the final spot on the podium.
The only female Para athlete competing was Kirsty Weir, also from South Africa, who won in the PTS3 class.
2023 Africa Triathlon Championships from 13-15 October, at Hurghada, Egypt
(South Africa unless stated)
Results: Elite Women
1. Vicky van der Merwe (02:12:24)
2. Amber Schlebusch (02:14:58)
3. Shanae Williams (02:19:04)
Results: U23 Women
1. Amber Schlebusch (02:14:54)
2. Bridget Theunissen (02:22:50)
3. Mai Samy (Egypt, 02:29:50)
Results: Mixed Relay
1. South Africa (01:22:39)
2. Morocco (01:26:41)
3. Algeria (01:27:38)
Results: Junior Women
1. Maja Jeanne Brinkmann (Namibia, 01:10:31)
2. Kadence Ribbink (01:10:59)
3. Nora Nouri (Morocco, 01:11:50)
Results: U17 Women
1. Fidaa Zoulazi (Morocco, 00:39:19)
2. Israa Yahiaoui (Tunisia, 00:39:39)
3. Maram Dewidar (Egypt, 00:41:53)
---
Main Photo Caption: South Africa's Vicky van der Merwe claimed the Elite women's title at the African Triathlon Championship from 13-15 October at Hurghada in Egypt. Photo: World Triathlon. Photo: Triathlon.org
Photo 2 Caption: The South African podium sweep also including Amber Schlebusch Shanae Williams at the African Triathlon Championship from 13-15 October at Hurghada in Egypt. Photo: Triathlon.org
Photo 3 Caption: Kadence Ribbink earned silver for South Africa in the Junior Women's division at the African Triathlon Championships. Photo: Triathlon.org
Photo 4 Caption: As the only para women's participant, South Africa's Kirsty Weir won in the PTS3 class at the African Triathlon Championship. Photo: Triathlon.org